Our Facilities
"The GBN campus is truly designed for the benefit of children and to provide them with endless opportunities to explore, play and learn safely. What I appreciate most is that they are constantly re-thinking spaces and re-configuring to keep the facilities stimulating for the children."
– parent
The school is over 22,000 square feet on 3.7 acres, conveniently located at Willow Road and I-294. It has 11 classrooms, a mini-gym/multi-purpose room, and four newly renovated playgrounds. Carefully designed to enrich the mind, body and spirit of young children, our exceptional facilities also offer a safe and secure environment. We welcome you to visit so you can experience the warm and educational environment that makes GBN such a special place.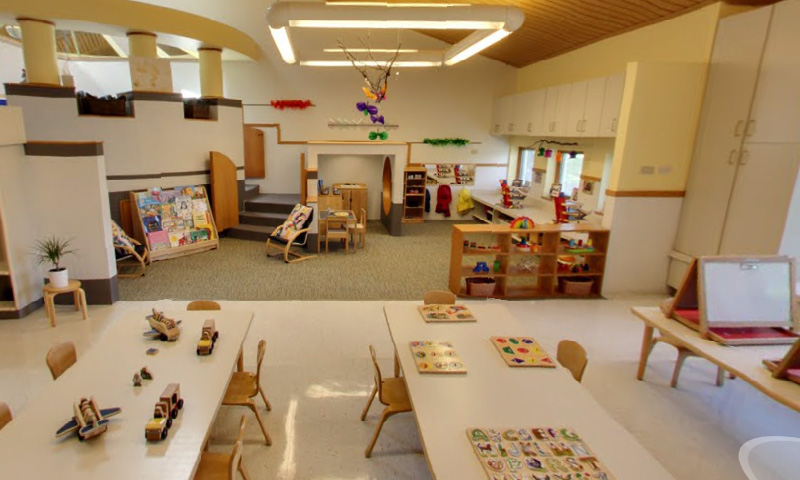 LOBBY
Our lobby boasts two unique installations that help keep children connected and captivated by nature, a professionally-maintained aviary with a variety of beautiful birds and a freshwater aquarium positioned at eye-level for our children to enjoy.
Aviary
Resident birds provide a welcoming presence and help ease your child's transitions between home and school while providing exciting learning opportunities.
Infant
Our caregiving staff consists of educators who possess knowledge of the specific physical, emotional, social, and intellectual needs of infants. Infant rooms include separate infant nap rooms and radiant floor heat.
Toddler
Our toddler program supports the individuality of each child while providing safe boundaries. Staff provide constant encouragement and support for the child's struggle to achieve independence.
Preschool
Our preschool program encourages your child to develop a self-identity by relating with classmates in a learning environment.
Kindergarten
Our literacy based kindergarten program is designed to develop the total child giving them the skills they need to excel. Staff plan a flexible program of activities that balance between academic and social, active and quiet, indoor and outdoor, group and individual.
Natural Playscapes
Our newly renovated playscapes help children stay active and enjoy nature. The landscaping was chosen to include plants that attract butterflies and birds but also contain low allergens and toxicity levels.
Trike Paths
Trike Paths and Jungle Gyms give children the opportunity to take on new challenges as they develop their coordination, balance, strength and agility.
Mini Gym
For those days when the weather won't cooperate, our mini-gym is a great way for our students to burn off some extra energy. It also serves as a space for some of our larger group activities such as dance class and festivals.
Safety
Electronic keys and a monitored security system ensure the highest levels of safety of all students.